What are the characteristics of "offline" members?
How to know if a user is logged in or not?
How to enable an offline member to participate actively in the life of the community despite the fact that s/he is not connected to the Internet?
How to report that a member does not use the Internet?
Once the details of a new member are saved, it is possible to show that s/he doesn't connect to the site regularly by checking the box located at the bottom of the registration form.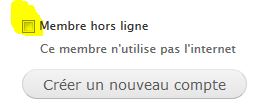 translation:
Member offline
This member doesn't connect to the internet.
Create a new account
Thereafter, it is possible to change permanently the status in the "Settings" of the person's "Account".
Sponsor an offline user.
When "Member Offline" is checked, the option to create a sponsor for the member will be activated.

translation:
ACCOUNT MANAGER(S)
Designate users who have the right to manage this account
Other users
It is therefore possible, if your community wishes, to allow friends or neighbours of an "offline" member to manage the account in his/her name. Other communities choose to leave this power to a committee member.
How to know if a member uses the Internet or not?
Each member of your community, when checking the account of a another member, can immediately notice if s/he regularly accesses the online site or not. The "profile" page of the "offline" person appears surrounded by a coloured border (resembling the "by air" mail envelopes).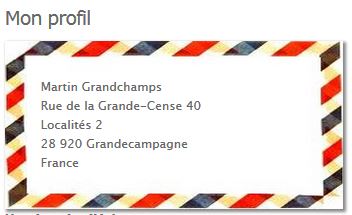 translation:
My Account
When trying to send a message through the site to someone "offline", a message appears at the top of the page.

translation:
Martin Grandchamps has no internet access and has no one designated to manage his emails
Committee members can have an overview of the offline members' accounts by selecting "Members" in the main menu.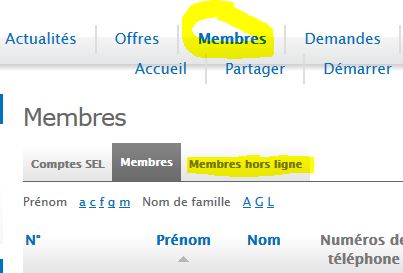 English